Vaseline Pot- Vaseline is one of those products that I will always buy again and again and they last you a while.
Wilko Hand Cream- This hand cream was brill it made my hands feel super soft so will be re-purchasing this product.
Alberto balsam Apple shampoo & conditioner- I have actually fallen in love with the alberto shampoos and conditioners. They are such great value for money and also great for your hair, I haven't repurchased these ones (I bought the coconut and lycee one) but it one I will probably go back to.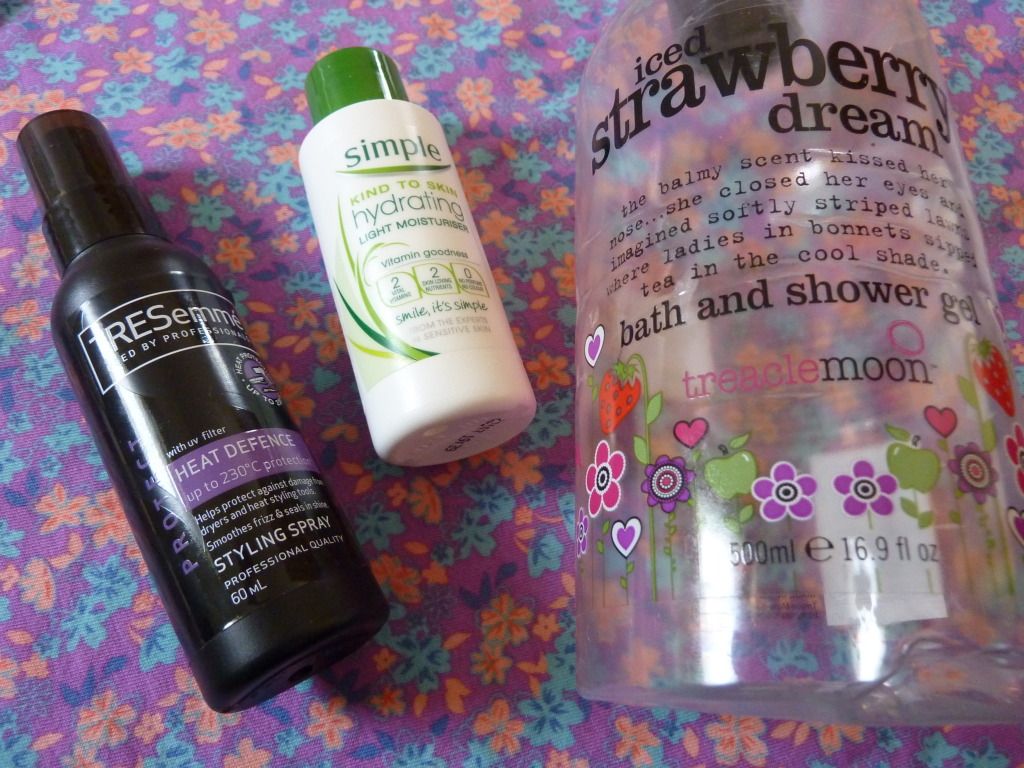 TRESemm

è Heat defense spray- I really loved the smell of this and I think it has protected my hair but I don't think I will
repurchase this as the full one is rather expensive to another
one that I have seen which is the got2b one which is around
Simple hydrating moisturiser (travel size)- I have already
repurchased the full product and I did a
review
Simple facial wipes (travel size) - I really did like these, they were really kind to my skin so I think I might repurchase these.
Soap & Glory Scrub 'em leave 'em- So

I did a comparision with this and the Soap & Glory and flake away

and from the post you can tell quite easily that I didn't like it. It didn't do anything to my skin and I was rather disappointed.
Superdrug Deep Cleansing Face Mask- I think this is quite a cool idea having face masks in a tube instead of buying endless sachets of single use ones (although they do contain a little more) and this really made my skin feel super soft and I felt like it really did my skin some good. I think this packaging is really old so I will be repurchasing this but I think the packaging looks a little different.
Lacura Day Cream- I really like the creams from lacura they are so moisturiser and sink in really quickly so defiantly a product I will be repurchasing.