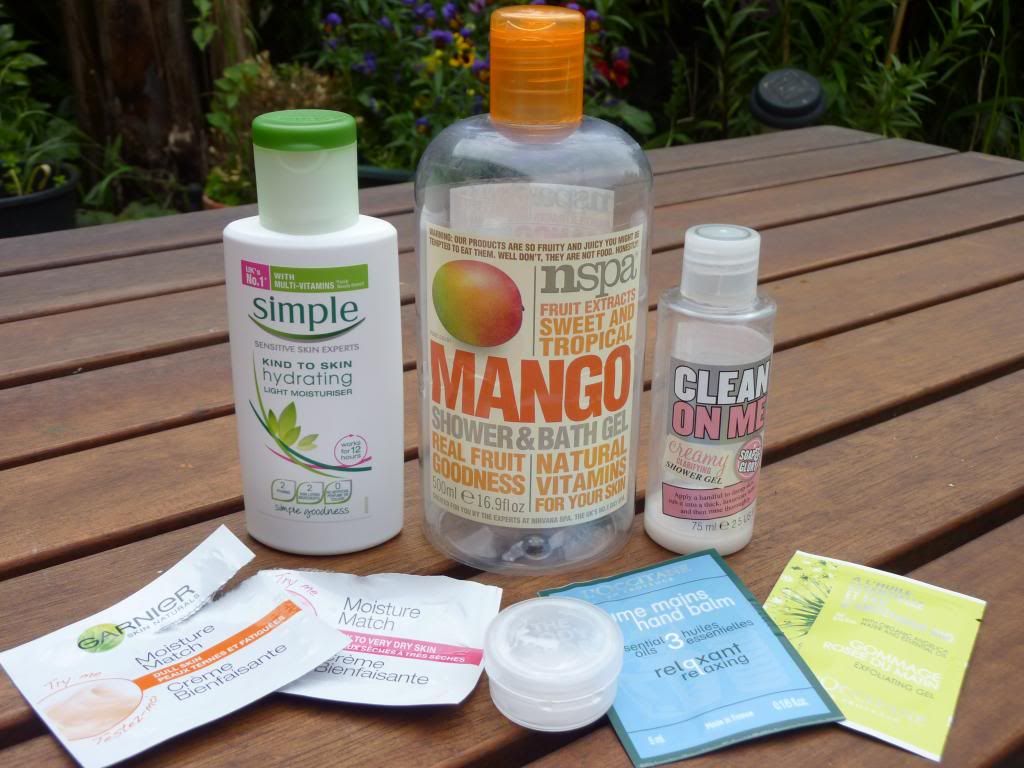 Garnier Moisture Match - Wake Me Up & Goodbye Dry
I have to say, I was very impressed with these. I love the formula of the "Goodbye Dry" it is like a gel, which make sink in super quick. This kept my face lovely and moisturised all day. Where as with the "Wake Me Up", to be honest I couldn't really see a difference...
Would I buy the full product?
Yes for the Goodbye Dry but it has to be a no for the Wake Me Up...
NSpa Mango Shower & Bath Gel
I love everything I have tried so far from nspa, I think the brand is awesome value. It has lasted me a while which is very good. It smells lovely and mangoy and lathers up very well.
Would I re-purchase?
Of course, but I might like to try a few other scents.
Soap & Glory Clean On Me Shower Gel
I did just feature this in my 16th Birthday Wishlist. So it is a definite re-purchase. It lathers up so much! It also smells amazing, a scent which is super relaxing.
The Body Shop Almond Hand Cream
This hand cream was lovely to use, it sinked in pretty well and smelt lovely.
Would I buy the full product?
Perhaps if I was treating myself.
L'Occitane Hand Balm & Angelica Exfoliating Gel
I used the Hand Balm before bed, it took a while to sink in, but I don't really mind that. It smelled lovely and nice and calming. As well it left my hands feel lovely and soft in the morning! A minor slip up with the Exfoliating Gel was that I thought it was for the body! Whoops! But luckily I did have a look at the back before entering the shower, so I was saved. Anyhow the product itself was really good, smelt nice and did the job of exfoliating very well!
Would I buy the full products?
As nice as they were, I think I would give a miss to the exfoliating gel, but if I saved up I might buy the Hand Balm!
What have you used up recently, will you be repurchasing?