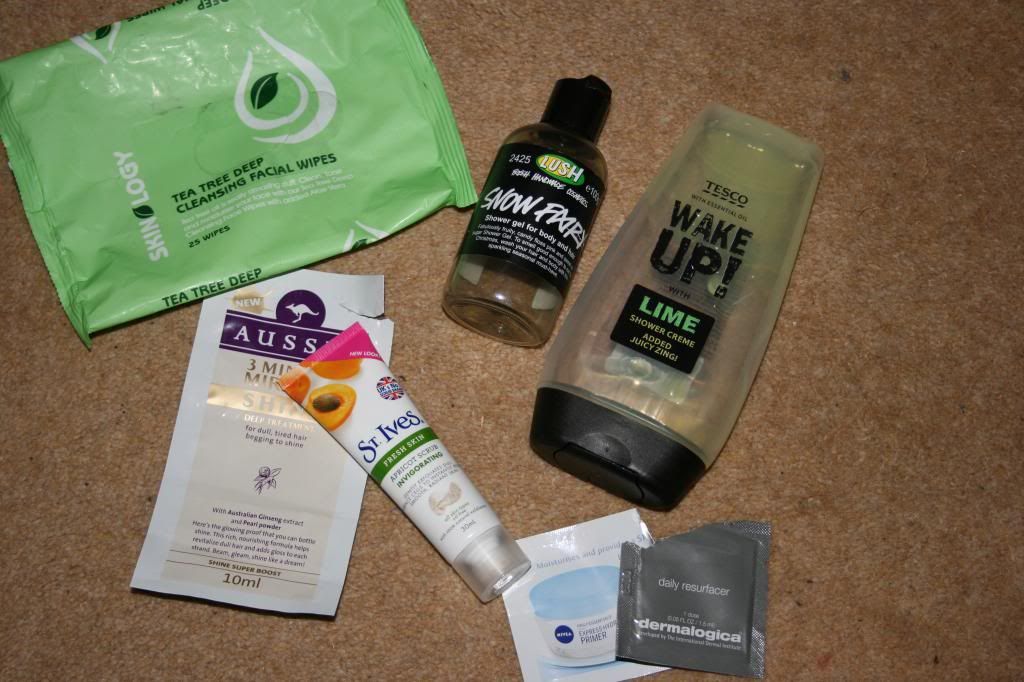 Just some standard face wipes, I usually have the fragrance free ones but on one trip to Wilkos, which I didn't attend my Dad/Mum got these instead. They smelt a little bit on the weird side, not a scent that I would be able to to pin point though.
Lush Snow Fairy Shower Gel
Yes, I know you are all probably wondering why I have the old packaged version of the snow fairy. I was planning on metering it out through 2012 and hoping to pick one up before the stock all went at the begnning of this year. But they were all gone by the time I went. This is a lovely sweet shower gel and is one of my faves from lush.
Repurchase? Yes, when they are back in stock
I absolutely loved this, it was super fruity and tangy. It really freshened up my shower and was also quite moisturising.
Repurchase? A definite yes!
St Ives Face Scrub (Invigorating)
This is a lovely face scrub, it makes your skin feel about better and smells lovely.
Repurchase? Yep!
Aussie 3 Minute Miracle
Perhaps one of the late ones on the bandwagon. I can see why people love it so much. It makes your hair feel and smell amazing.
Repurchase? Yes.
Nivea Hydration Primer
I have wanted to try this for a while now. It applies really nicely and doesn't take too long to sink in. It kept my make-up on quite well.
Repurchase? I would be more than happy to!
Dermatologica daily resurfacer
It is a dinky little mitt which you pop on your finger and rub on your face in circle motions. It was a really nice product to use but not something I would rush out and buy.
Repurchase? Nope.
Alberto Balsam Mandarin Shampoo and Conditioner
(not photographed but something I did use up)
I have mentioned this many times before on my blog, I love alberto balsam hair range. This is by far my favorite it is so fruity and leaves your hair smelling amazing and feeling squeaky clean!
Repurchase? Of course!
What have you used up this month?