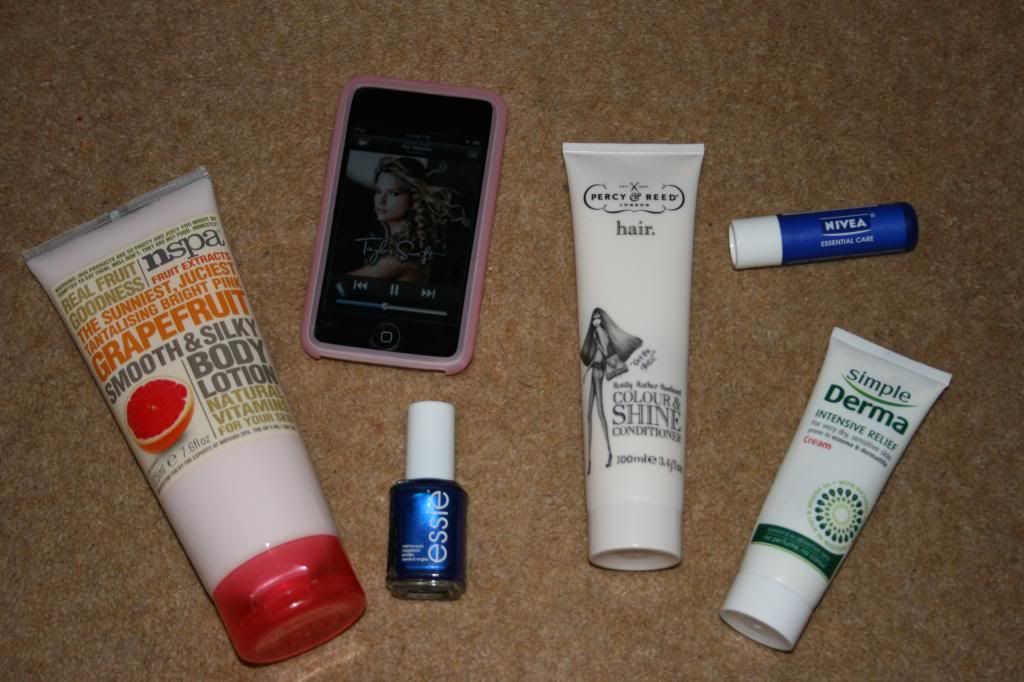 Percy & Reed Hair Conditioner
A lovely product made my hair super shiny, smooth and the scent stayed in your hair. It wasn't a fruity scent which I used to in hair products it almost smelt like some conditioner you would find in a salon.
Essie Aruba Blue
This is a gorgeous dark blue metallic polish. I don't own anything like this it is also a similar colour to my prom dress (perhaps a future post?)
nspa grapefruit body lotion
Smells a-mazing and is super moistursing.
Simple Derma Relief Cream
This cleared up any dry patches that cropped up in no time!
Nivea Lip Balm
A nice alternative to a scented lip balm, I like applying this before going to bed.
I have got an app of the month as I haven't been downloading any new ones, but I do have a song. It is by Taylor Swift, and it is from her old album titled "Fearless" (don't you just love old songs?) It is titled "Teardrops on my guitar", this is quite a sad and slow one but by far my favorite, along with the classic of "Love Story" and "Our Song".
Book of the Month The Dark Heroines
I would have taken a picture of this but it is no longer in my hands, I borrowed it from my friend Izzy as she had said it was rather good. And it is, if you love vampires, then I am sure you will like this. It also has a bit of romance in it too!
What have you been loving this month?
(This is a schedualed post as I am on holiday, so I will not be able to answer any questions in the comments. I will be returning on the 6th April)