Simple Derma Relief Cream
Just in case I get any dry patches, you also might be wondering why I don't a have a proper moistursier included in this post. I have almost used up my pure one and plan to buy one when I get there. Perhaps the Simple hydrating one.
Extracts Mango & Nectarine Body Butter
This smells absolutely amazing and is a perfect size, which will hopefully last me the week.
Percy & Reed Conditioner
This is lovely travel handy size, it makes my hair feel super soft.
Soap & Glory Hand food
Something I cannot do before going to bed, is to apply this wonderful hand cream.
Umberto Giannini Shampoo
There is just enough in there to last me a week, I haven't tried it yet but it smells lovely!
Soap & Glory Scrub of your life
A lovely scrub, smells amazing and makes your skin super soft.
Boots Zingy berry shower gel
Perhaps the 250ml bottle is a little on the large size, but hey ho didn't have any other body wash which was smaller. It smells really nice and fruity.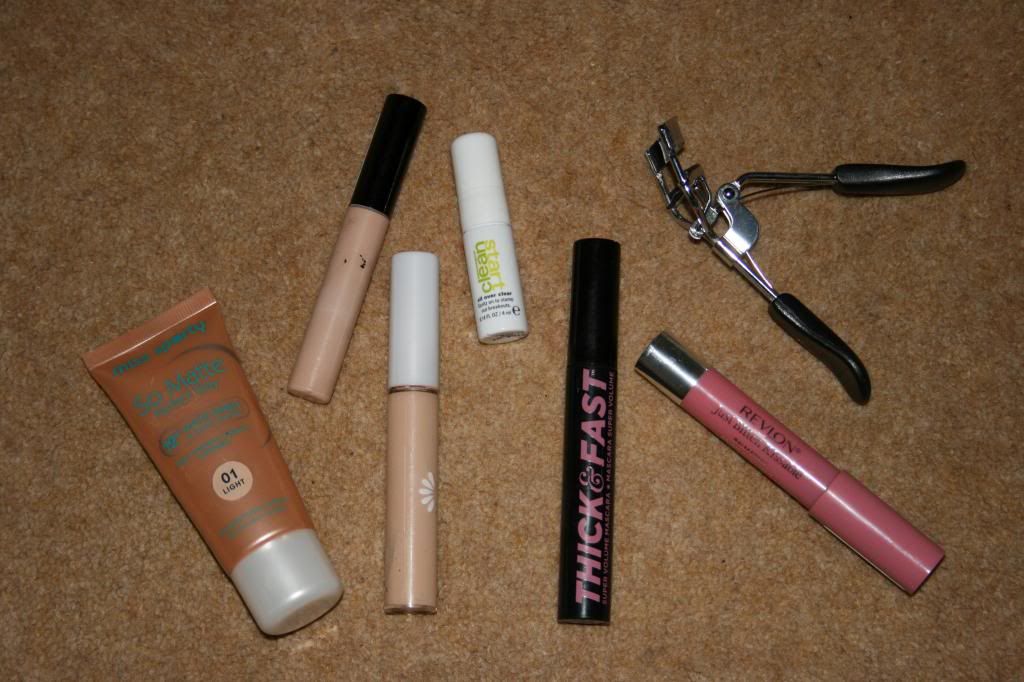 I am not planning on wearing too much make-up as there is not really much point, but here are a few items I will be taking with me.
Miss Sporty Foundation
This is a light to medium coverage, it super easy to apply (I will be taking my elf stipple brush).
Collection concealer
This is great at covering up dark under the eyes, but as this is a little on the dark side it is not great for spots. That is why I use it with Natural Collection concealer, is much lighter and suitable for redness and spots.
Dermatologica Spot Spray
Just in case, I do get any spots, this seems to banish them in no time.
Soap & Glory Thick & Fast Mascara
This coats my lashes really well, gives them length and volume.
Eye lash curlers
Can't go without taking these.
Revlon Balm Stain in Honey
These are great if you want a little bit more colour to your lips and they last ages!
What sort of things do you take on holiday with you? (This is a schedualed post as I am on holiday, so I will not be able to answer any questions in the comments. I will be returning on the 6th April)