*Yes a very belated post, sorry! This has actually been in my drafts, but haven't had chance to do it until now*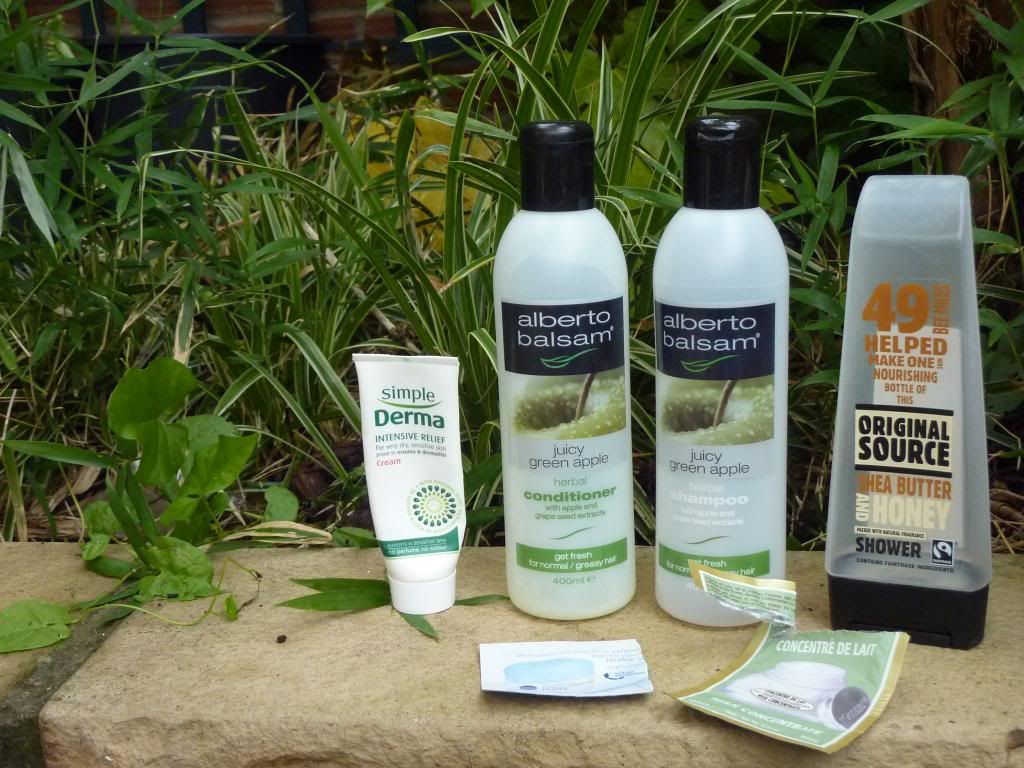 Alberto Balsam Apple Shampoo & Conditioner
I have talked about this for a while now, I love how this is great value for money. The shampoo, really makes your hair feel squeaky clean and they conditioner locks in the moisture. They also come in lovely fruity scents!
Repurchase? Of course!
Original Source Shea Butter & Honey Shower Gel
I have always been a little sceptical about some of their shower gels. Whenever I have gone into Superdrug/Tesco, they have always been very 'in your face' scents. A bit too overwhemling and something I would not like to use before going to bed! But this is very mellow and relaxing. You don't need a lot of this, so it will last you a good time.
Repurchase? Yes!
Simple Derma
This cleared up any dry patches that cropped up on my face, and also soothed any irration!
Repurchase? Yep.
L'occitine Milk Concentrate
I took this one holiday with my Palmer's Coca Butter Formula. This cream was a dream to apply! It was very relaxing and could do my whole body.
Repurchase? It would be quite an expensive treat, but maybe sometime!
Nivea Primer
I used this for my Prom make-up. From what I remember, it kept my make-up on for most of the night! Which is very good going.
Repurchase? Probably not...
What have you emptied recently, would you re-purchase?
Have you entered my 100 follower Giveaway yet?