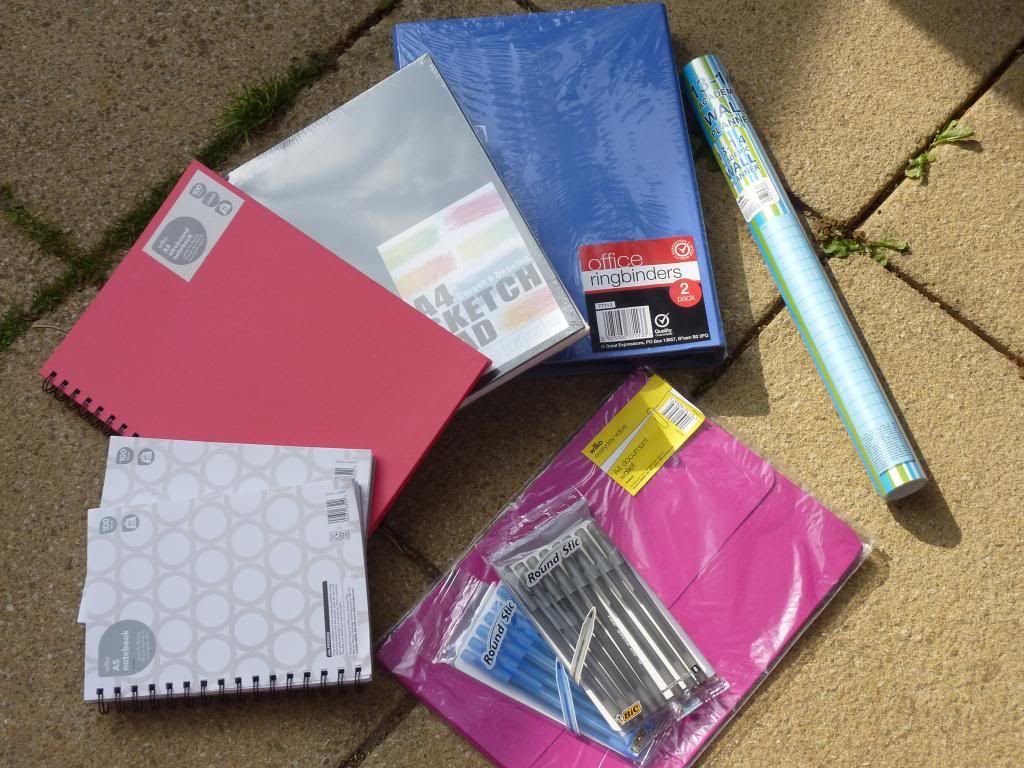 L-R A5 Notebooks Wilkinsons, A4 Pink Hardback Notebook Wilkinsons, A4 Sketch Pad "Present House" (small shop I went to on holiday), Blue Office Ring Binders 2 pack for £1 Poundland, 13-14 Wall Planner Wilkinsons, Bic Round Stic Pens Blue & Black Asda, A4 Document Wallet (pack of 5) Wilkinsons.
The best part of going back to school, is stationery. It may seem weird but I love stationery lots! So much so I even have a cupboard which holds all of my stationery and books, which lives in the kitchen! When I was younger, there would always be a trip to Tesco to get myself a new pencil case, pencils, pens ect and I always looked forward to it.
This year I am going to Sixth Form, which is after Secondary school. As the laws have changed it meant that everyone who wasn't the current year 11's, had to stay in some sort of education or take up an apprenticeship until they were 18. I wasn't planning on going to Sixth Form, I just wanted to get a job and start earning some of my own money. In some ways I think this is a good idea but in some ways it is not.
Anyway the other day I had my enrolment day, which consisted of talking to staff, filling in more forms and taking questionnaires and surveys! I was quite nervous about the to start with but as the day grew on and finally ended I felt much better. I go back for a full day on the 9th September, which I am looking forward to!
I am hoping to study Design & Technology (Resistant Materials), Photography, Media Studies and Business Studies. I was not quite sure what things I would need, so I went for a couple of notebooks of various sizes, a few ring binders, pens, a sketch book (as they mentioned it in my Photography summer work), pink wallet folders, and a wall planner which my Dad got for me. Just a few things! ;)
Are you looking forward to going back to school?
What are your back to school essentials?