I get quite a few emails from The Body Shop on a regular basis. Always telling me what offers they had on. Unfortunately I didn't decide quick enough that I wanted to make an order. Which meant that I could have got 40% discount and free shipping if I spent £5 or more.
However, I got another email probably the week after, telling me there was a 35% off discount and the same shipping offer as before. So I put these items in my shopping basket.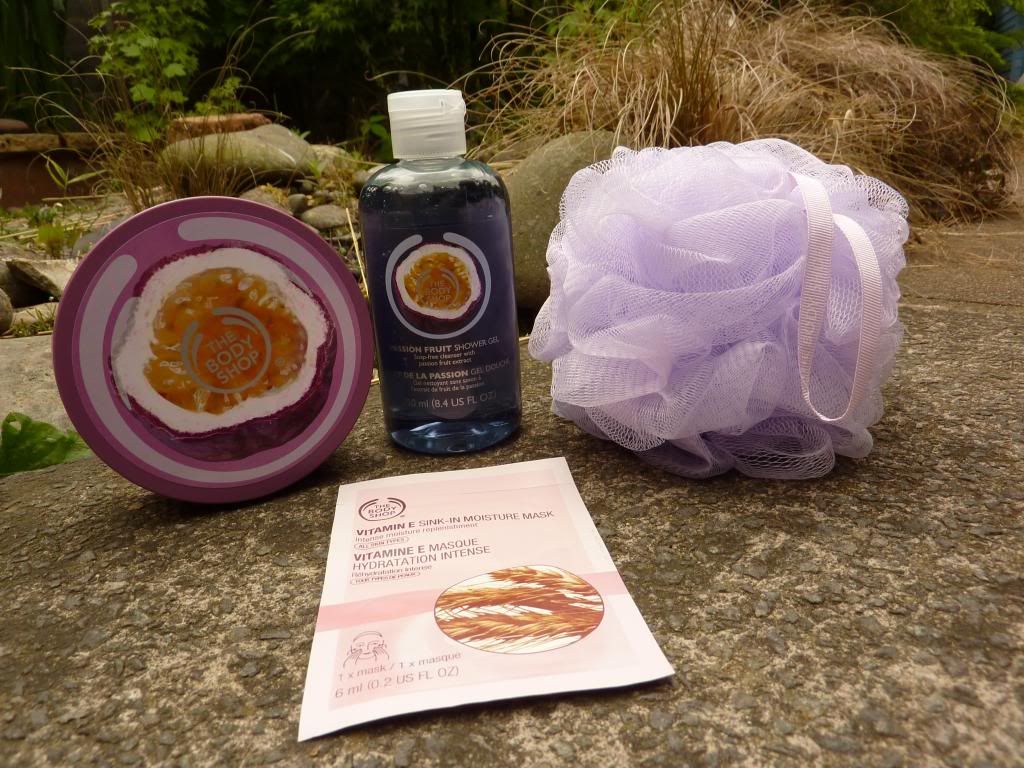 I planned on getting a bath lily/puff, so that went straight in there. They usually cost £2 but with the discount I got it for £1.30. They are really worth it in my mind, they are soo dense and foam up your shower gel lovely!
Next went in a face mask.
I have wanted to try a face mask from them for ages and thought that the Vitamin E Sink-In Moisture Mask, would be most suitable for me (and my skin). Again retailing for £1.50, it was cut down to 98p. I will tell you how I get on with this in a future post.
I have had my eye on their Shower gels for ages! I wanted to get the satsuma one but it was just for slightly a higher price. So I settled for the Passion Fruit Shower Gel, which is funny colour (than I am used to) at first but I will see how it goes.
Last but no means least was one of their Body Butters. As I have been loving my Vineyard Peach body butter, I thought I would try another one. In the list was this one, a Lemon one and a Papya. I went for the passion fruit one (which is still currently on offer). It smells...soo good, I want to eat it (but I won't, don't worry!) They normal go for £13, but this was in the sale for £5. But then adding on the 35% discount it was a steal at £3.25. Bargain!
So all in all in came up to *drum roll* : £ 7.48. Which is brilliant and I didn't have to pay for shipping which sometimes really makes me not make an order anywhere online.
Have you done some online shopping recently?