Yesterday, I went to an induction day at my Sixth Form College, that I am hoping to go for. It was a little nerve racking but I was glad I found some of my friends from my previous school. Basically it was a day of looking around the college and asking the teachers any questions that you wanted answering. After that, I went into town and met up for lunch with my Dad. Whilst I was there I just picked up a few bits and bobs and thought I would show you them!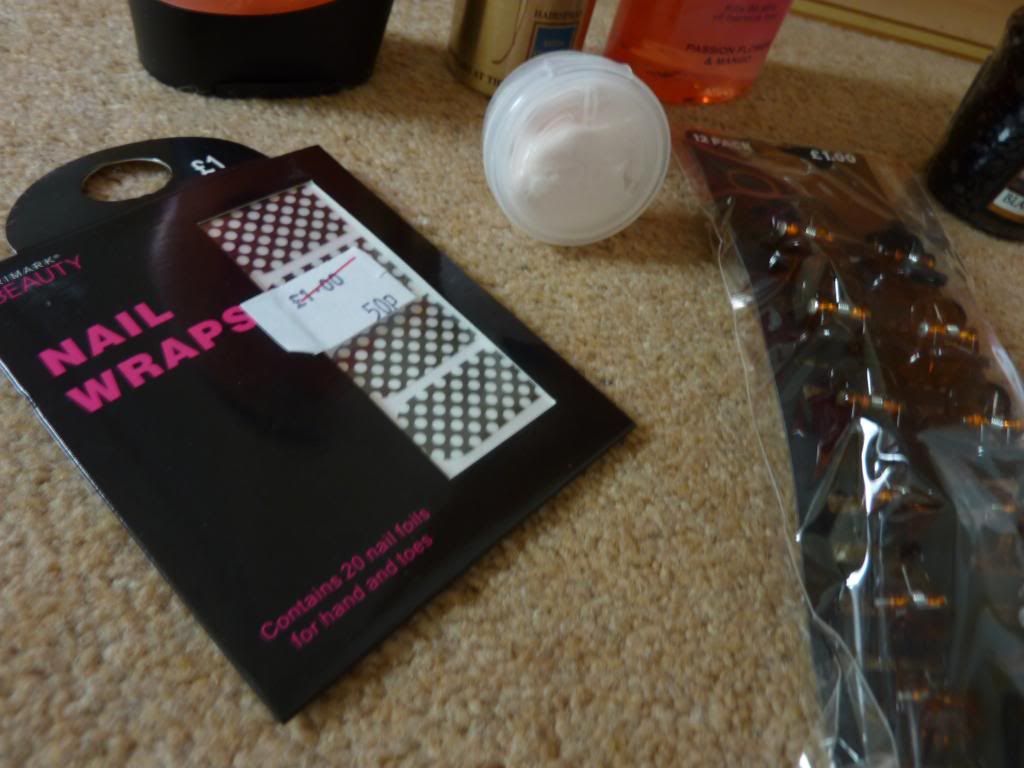 Radox Eastern Spirit Shower Gel 97p
Whilst in town, I thought

I would buy another shower gel. Also it was only 97p, so couldn't really not get it...
L'Oreal Elnett Satin Hairspray £2.89
I needed some hairspray for my hair for prom (a pictures post will be up soon). I got this in my local shop, so it wasn't exactly the best price going but I have heard quite a few good things about this hairspray.
Cuticura Hand gel Passion Flower & Mango £1
My Mum has been wanting a hand gel for a while, so when I saw this in boots, I grabbed it. It also leaves a really fruity smell behind!
Yankee Candle Samplers Black Coconut & Summer Scoop £1.35 each
I just thought I would pop into Clintons and see what Yankee candles they had. Have a little sniff or two! I came across these two lovely ones. What also was great was that they had 25% off of all their candles. So instead of being £1.80, they were £1.35.
Primark Black & White Spotty Nail Wraps 50p
I saw these in a box with a couple of other designs which didn't really take my fancy. I thought that I would give them a go and perhaps even review them. I think that 50p was an absolute steal for these!
The Body Shop Intensive Vitamin E Moisturiser (Sample)
I have always been intrigued by the skincare that TBS sell. I really liked to try something from their vitamin e range. So I asked for a sample of the "Intensive Moisuriser" as my skin has been feeling a little drier than usual.
Primark Clips £1 for 12
Now I am not sure how to describe these. But are they called butterfly clips? I got these as I thought they would be ideal for clipping back sections of hair. So for example I wanted my hair down but to clip the side bits back.
MUA Nail Polish Bright Pink £1
I have wanted to try the new polishes from MUA. As I have shade 15 and it is running out, I thought I would give this a bash and see how it compares. I am really gutted that MUA have changed their whole colour range as now you can't buy the ones they previously stock. Also naughty MUA have copied Essie bottles! tut tut!
Also I bought some Primark classic sunglasses (that are quite like Ray-Bans), which were £1. Funnily enough I was wearing them whilst taking the photos and forgot to take them off, mine broke when I was in town so I thought I would buy another pair!
I was very please with my purchases that day, what have you been buying recently?